Hey everyone! Well, there's going to be another Harmsen-Coplen GIRL! We are so excited to annouce that we now know what this little creature is inside of me!
The Ultrasound was an interesting experience. This little baby was stuck in my pelvis which made it very hard for the tech to get all her measurements - after 3 liters of water (I just kept on drinking b/c I had to go pee like 4 times before our appointment came around) the tech started to jiggle my belly - and then Wade started to jiggle from the other side... HOLY JEEBERS!!!! I thought I was going to let it all go on the table.
After 30-40 mins, lots of silence (and worrying on my part), a trip to the bathroom, I think she got all her measurements and TADA "You have a girl!" or as the tech said "a little stubborn girl!"
It was the most amazing thought that went racing through my mind, because all along I thought I was having a boy. Even had a boys name picked out!
Knowing this little baby inside me is a girl, makes me so happy because there is so many girls in my family and in Wade's family that are ALL SO AMAZING, that I know this little diva will be just a doll.
My mom says she looks like Sophie, my niece, already...and also said she looks like a "Patsy, Lily or Mary" HA!
Thanks for everyone's prayers, support and great wishes! We truly appreciate it!
We love this little baby so much already!
-Julie & Wade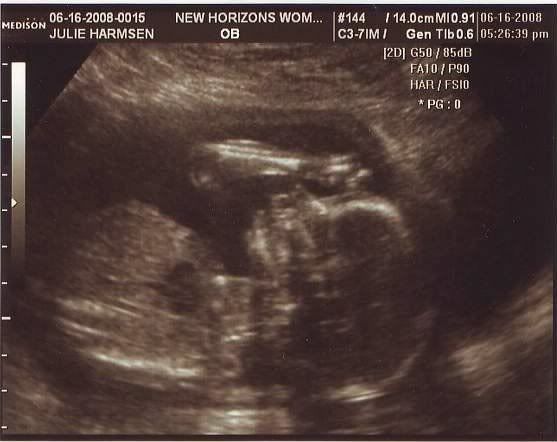 Kindest Regards,
The Coplen Family